PROMATECT H fire-proofing panels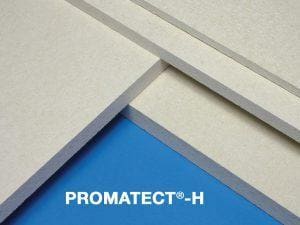 These are large self-supporting refractory silicate panels insensitive to moisture and featuring excellent insulating properties. No emission of harmful vapors or smoke during fire.
Applications: used in the general-purpose and commercial construction industry for fire-proof lining of structural components and for construction of stand alone components with a declared fire resistance class.
Volume density: approx. 870 kg/m3
Benefits:
Outstanding durability for long lifetime
Very agreeable appearance
Easy to apply and workable
Moisture resistance
No supporting structures required for post or beam enclosures
Dimensions: 1,250 x 2,500 mm, 1,250 x 3,000 mm
Thickness: 6, 8, 10, 12, 15, 20 and 25 mm