Refineries and petrochemical plants
Fire protection for refineries and petrochemical plants
Fires in commercial facilities, including specifically refineries and other petrochemical plants, produce a much faster and greater temperature buildup than in any other type of a building. In these conditions, most structu
ral materials lose their original properties: steel gets weaker and concrete cracks off. Lining load-carryi ng structures with adequ ate refractory panels is one of the means of protecting facilities against such damage in fire.
Our business related to protections for the petrochemical industry includes fire-proofing them with:
FENDOLITE MII products;
PROMATECT H panels.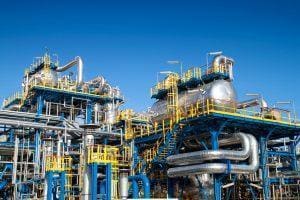 ISOFIRE HCF mortar
ISOFIRE HCF is a mortar based on cement, mineral wool and modifying additives.
Use: fire protection of steel structures.
Fire resistance: R15 to R240.
Advantages:
Does not emit toxic or dangerous fumes;
Easy to use and apply;
Easily biodegradable;
High quality and long service life of fire protection;
Very good insulating properties;
Resistant to chemical corrosion;
Low weight of the protection made - negligible in the static calculations for the structure.
FENDOLITE MII fire protection system
Products: FENDOLITE MII fire-proofing mortar
The mortar is manufactured in the form of a dry mix of vermiculite, Portland cement and modifying additives. It is one of components of the system used to protect steel against rapid temperature buildup in hydrocarbon fires.
Applications: fire protection for steel structures against deterioration of load-carrying capacity in hydrocarbon
fires
Fire resistance: protection for steel from R15 to R240
Benefits:
No emission of toxic or hazardous fumes,
easy to use and apply,
no biodegradation,
high quality and long lifetime of fire protection,
excellent durability and resistance to physical damage,
thin fire-proofing coat,
suitable for increased humidity environments.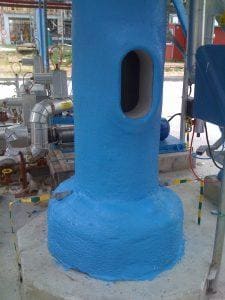 PROMATECT H panels
These are refractory silicate-cement panels featuring excellent insulating properties and resistance to high temperature buildup. No emission of harmful vapors or smoke during fire.
Applications:
Fire-proofing for steel structures,
fire-proofing for ferroconcrete beams, posts, ceilings and walls.
Fire resistance:
Steel protection from R15 to R240,
concrete protection to REI 240.
Benefits:
Outstanding stability and good physical properties in high temperature,
durability for long lifetime,
very agreeable appearance,
easy to apply and workable,
moisture resistance,
good tolerance of multiple icing and de-icing cycles,
no supporting structures required for post or beam enclosures.